Omega Oil Blend - Essential Fatty Acids
Maybe that's why scientists call them Essential Fatty Acids (EFAs). These fats, Omega 3 and 6 to be specific, are essential because your body cannot produce them, yet your cells require them. The only way to get these fats is by eating them.
Using Omega Oil Blend daily will help you:
• risk factors for cardiovascular disease
• Enhance your stamina
• Boost your energy levels
• Improve your general health
Let EnergyFirst Omega Oil Blend - Essential Fatty Acids come to your rescue!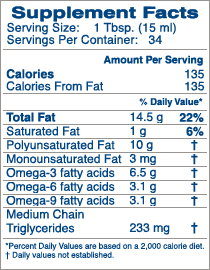 Our Omega Oil Blend is specially formulated to give you all the good fats (EFAs) you need without any of the bad fats you should avoid. We've blended Omega 3 and 6 essential fats in the ideal ratio - 2:1 - for your body.
Many essential fatty acid products taste "fishy". Not Ours.
Omega Oil Blend is a unique blend of cold pressed, unrefined, certified organic raw flax, sesame, sunflower, and pumpkin seed oils rather than any fish extracts. This gives the oil a light, nutty flavor that is virtually undetectable when used in your shakes and enhances the flavor of any oil-based salad dressing.
It contains 1000mg of essential fatty acids per serving. Omega Oil Blend is packaged in an opaque, glass bottle for optimal freshness.
Price: $19.99